If you came here looking for THE Wiccan Calendar, I do really have only one to show you: the Witches' Calendar by Llewellyn. It has pagan history, phases of the moon, seasonal essays on egg lore for instance around Easter. It is in fact packed as full of information as a calendar can get. It comes as a planner and a wall calendar (so that does make 2). Also check out the Witches' Companion information, featured below.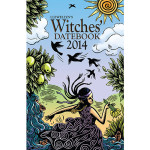 The Llewellyn's Witches' Datebook Softcover Engagement Calendar is now available and completely new for each year with an introduction to 13 magical stones by Elizabeth Barrette.
You will also discover fun, fresh ways to celebrate the sacred seasons while enhancing your practice with Ellen Dugan's inspiring Sabbat musings and Moon rituals from Ember Grant. You will love the tasty Sabbat recipes by Susan Pesznecker. Astrological information and daily colors plus in-depth articles on good energy by Tess Whitehurst, cauldron magic by James Kambos and rainy day magic by Melanie Marquis are also included. If you click on the link above the datebook and wall calendar are both shown for the current year.
Llewellyn's Witches Companion Book is the ideal Companion to the Witches' Calendar and Datebook, this guide will keep you completely up to date with the latest Witchy trends, Craft practices, Pagan issues and ideas for green living.
Each year's edition is filled with articles from innovative thinkers, authors, and experts keeping you abreast of timely topics covering hot debates in the Wiccan/Pagan community.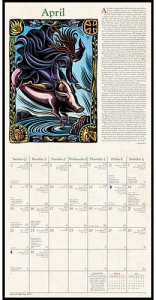 Shown right is one of the inside pages of a previous year's Llewellyn's Witches' Wall Calendar. It is exemplary for the amount of information this calendar contains. And the planner contains nothing less.
What many love about the engagement calendar is that it is more than an appointment book and calendar, the multipurpose datebook allows you to seamlessly blend the magical and the mundane, while keeping pace with the turning Wheel of the Year. New this year are thirteen seasonal spells by Deborah Blake.
Llewellyn's Witches' Calendar is the top-selling calendar of its kind. Get inspired by unique and provocative in-depth articles. Take advantage of astrological data and other practical information to plan rituals. It's amazing what amount of information and inspiration they manage to include in a simple wall calendar.
Of course it includes the pagan holidays and astrological information, but it's also simply a fun calendar to have at your house to learn more about Wicca.
Llewellyn also sells pagan planners and almanacs, almost as popular as the witches calendar… Do check them out too.