As a witch you need a planner like everybody else: to keep track of appointments. But you also need a calendar to keep track of something most people ignore: the phases of the moon, the movement of the sun in the sky, conjunctions, mercury going retrograde… etc. You need all that to keep up with the Wiccan holidays and ceremonies. Whether it's Samhain or Beltane, Litha or Mabon – their dates move with the moon, not the sun, so they're hard to keep track of.
If you came here looking for THE Wiccan Calendar, I do really have only one to show you: the Witches' Calendar by Llewellyn. It has pagan history, phases of the moon, seasonal essays on egg lore for instance around Easter. It is in fact packed as full of information as a calendar can get. It comes as a planner and a wall calendar (so that does make 2). Also check out the Witches' Companion information, featured below.
There's good reason they're so popular: unlike other publishers, Llewellyn pulls out all the stops. You don't just get a standard calendar with a nice picture each month. Sure, you get that.
However, you also get the stages of the moon, a monthly inspirational text on some theme (and yes, it's different each year as well), information on herbs, rituals, the seasons etc.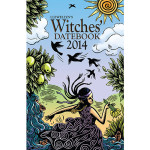 The Llewellyn's Witches' Datebook Softcover Engagement Calendar is now available and completely new for each year with an introduction to 13 magical stones by Elizabeth Barrette.
You will also discover fun, fresh ways to celebrate the sacred seasons while enhancing your practice with Ellen Dugan's inspiring Sabbat musings and Moon rituals from Ember Grant. You will love the tasty Sabbat recipes by Susan Pesznecker. Astrological information and daily colors plus in-depth articles on good energy by Tess Whitehurst, cauldron magic by James Kambos and rainy day magic by Melanie Marquis are also included. If you click on the link above the datebook and wall calendar are both shown for the current year.
A weekly planner with enough room for your appointments, but it also includes weekly blobs of information on pagan themes.
Llewellyn's Witches Companion Book is the ideal Companion to the Witches' Calendar and Datebook, this guide will keep you completely up to date with the latest Witchy trends, Craft practices, Pagan issues and ideas for green living.
Each year's edition is filled with articles from innovative thinkers, authors, and experts keeping you abreast of timely topics covering hot debates in the Wiccan/Pagan community.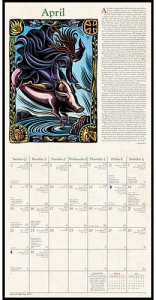 Shown right is one of the inside pages of a previous year's Llewellyn's Witches' Wall Calendar. It is exemplary for the amount of information this calendar contains. And the planner contains nothing less.
What many love about the engagement calendar is that it is more than an appointment book and calendar, the multipurpose datebook allows you to seamlessly blend the magical and the mundane, while keeping pace with the turning Wheel of the Year. New this year are thirteen seasonal spells by Deborah Blake.
Llewellyn's Witches' Calendar is the top-selling calendar of its kind. Get inspired by unique and provocative in-depth articles. Take advantage of astrological data and other practical information to plan rituals. It's amazing what amount of information and inspiration they manage to include in a simple wall calendar.
Of course it includes the pagan holidays and astrological information, but it's also simply a fun calendar to have at your house to learn more about Wicca.
Llewellyn also sells pagan planners and almanacs, almost as popular as the witches calendar… Do check them out too.
Celebrate Female Energy
In honor of the spiritual Mother (the Goddess) and the sisterhood of those who share your beliefs, a Wiccan Calendar could take on several different formats. When searching there does not appear to be many that have been tagged with the term but there are some available for you to use.
Even though Wicca is relatively new as a modern form of witchcraft, Wiccans follow the philosophies, practices and ethics of the Old Religion which predates Christianity, Judaism and the Islamic faith. Honoring the earth and all of its inhabitants is essential to your faith and finding a calendar that reflects that will make the task of keeping organized a little more enjoyable.
How are the planets aligned?
In the practice of modern witchcraft or Wicca, being aware of the alignment of the planets and the phases of the moon is helpful on several different levels. Astrological calendars might be just the format that will work for you as go through your busy life of work and play. You may know that when the stars are in a certain pattern that it is a bad day to sign a binding contract or that this may be a day where luck is in your favor.
Keeping abreast of where the moon is in its phases can also be important for spellwork or other activities that you and the members of your coven may decide to celebrate together. There are many choices that could work for you.
Do you believe in magic?
Oh, I am not talking about the slight of hand kind of magic, but the art of practicing magic spells and the energy of certain places that could be considered as magic places. There is the gift of some who may be able to connect with other realms of existence which have nothing to do with a man who is able to pull a rabbit out of his hat.
Magic calendars are not plentiful but there are some out there that may be of some inspiration while you keep track of those appointments, business and personal plus holidays, Sabbats, birthdays and anniversaries.
A few other choices for a Wiccan Calendar
Besides the ones that I talked a little bit about above, here are a few others that you might find helpful in a choice for your calendar for this coming year.