Who doesn't love owls? These planners and organizers are each decorated on the cover with owl inspired art. They're cute, they're practical and will help you stay organized throughout what's left of 2013 and the whole of 2014. Perfect for you to use yourself or to give someone as a gift.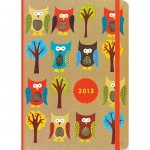 The popular The Owls Weekly Planner is cute, practical and fun. A yearly best seller! And for good reason. That look will work in any purse. Weekly calendars are the best mix, I think, between size (not too large) and convenience (enough space for notes).
Shown to the right is the Owls Compact Engagement Calendar cover. It is a 16 month Planner that runs from September 2013 to December 2014. Let this flock of funky feathered friends accompany you throughout the year! The bestselling Owls Compact date book design is embossed with gloss highlights. Smart weekly planner format provides space for notes and addresses.
Owl 2013-2014 Hardcover Weekly Date Books
September 2013-December 2014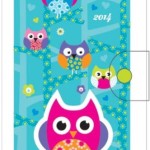 Purple Owls On A Tree Vinyl Organizer Weekly Engagement Calendar/Planner 2013-2014 is a Cute weekly organizer and is decorated on the cover with purple owl art (as you would expect), has a practical weekly overview and monthly pages as well. Included are owl stickers and a small note book.
Also available in a Puffy Owls Planner The Puffy Owls Vinyl Organizer Weekly Engagement Calendar/Planner 2013-2014 is cute besides being a functional and well organized planner for any girl to use.
See also the Owl Photography Wall Calendars and more owl calendars.