They're back, the pony's that girlfriends of mine had in primary school… My Little Pony is now nearly 30, but still cute, fun and girly.
My Little Pony is a brand of toy ponies marketed primarily to young girls and produced by the toy manufacturer Hasbro. These ponies can be identified by their colorful bodies and manes, and typically a unique symbol or series of symbols on one or both sides of their haunches. Accordingly, the ponies are named after the symbols on their haunches.
Following the related My Pretty Pony toy, introduced in 1981, My Little Pony was launched in 1983. The line became popular during the 80s. The original toy line ran from 1983 to 1995 (1992 in the U.S.) and inspired animated specials, including an animated feature length movie and two animated television series. The brand was relaunched between 1997 and 2003 (1999 in the U.S.), and then fully relaunched globally in 2003. My Little Pony celebrated its 25th Anniversary in 2008.
Here are the My Little Pony Advent Calendars currently available:
My Little Pony Advent Calendars Currently there are three different styles to choose from for these cute little pony inspired calendars to count down the days to Christmas.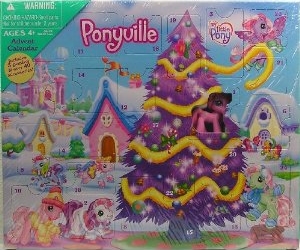 More advent calendars: